Christians around the world are busy with last-minute preparations, shopping for gifts, and enjoying all the fun of carol services and nativity plays. But there is one person for whom this is all a million miles away: Asia Bibi.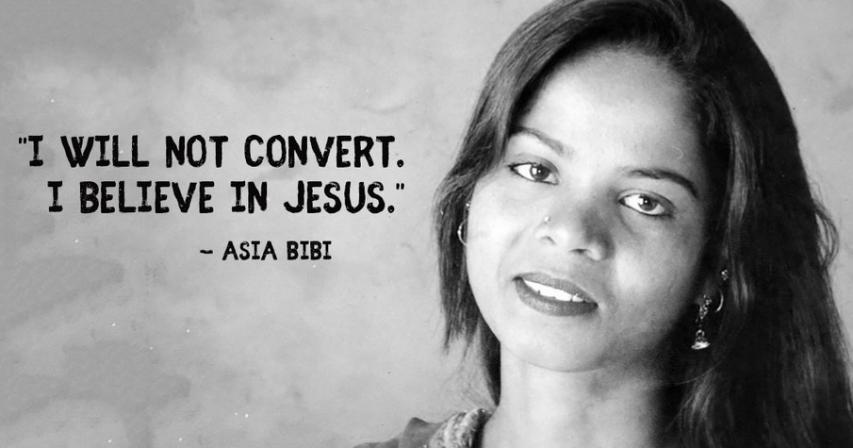 Despite being acquitted of blasphemy charges and freed from years of imprisonment on death row, it is as if she has moved from one prison to another. Yes, she is free from her prison bars but having been forced directly into hiding by throngs of Muslim extremists baying for her blood, there is no true freedom for Asia Bibi.
For her own protection, her whereabouts are secret, but that hasn't stopped heartless radicals from apparently going door to door to hunt her down. We are to understand that the security forces are protecting her round the clock but the risk to her life is still grave. Sobering reminders of this are the murder of Salmaan Taseer by his own bodyguard after he spoke in her defence, and the death of Samuel Masih, admitted to the Gulab Devi hospital in Lahore for tuberculosis only to be killed by the police officer who had been assigned to guard him. In both cases, the killers boasted of their crimes and claimed they had only done their religious duty.
While her family have been vocal in their appeals for asylum elsewhere, no offer has been made yet - something country leaders keep insisting is because of the delicacy of the internal process in Pakistan and the risk to Bibi's life.
Whatever the case, she remains in Pakistan, a country that is becoming harder for her to leave with every passing day because of the review petition against her acquittal that is due to be heard in January and another petition filed to the Supreme Court calling for her name to be added to the exit control list. Once added to this list, an offer of asylum would be of little consequence.
Time is truly of the essence and yet I fear that the review petition won't be heard any time soon. Chief justice Saqib Nisar is leaving his office early next year and it's questionable how much of a priority the review petition is for him.
The blame for Bibi's continued heartache lies squarely on the shoulders of Tehreek-e-Labaik Pakistan (TLP), whose violent protests brought Pakistan to a standstill and caused the panic-stricken government to strike a quick deal to review her acquittal.
The sorry turn of events only begged the question: who actually runs Pakistan, the government or the extremists? The government should never have capitulated to such a despicable party that called not only for the death of a woman fully exonerated in the courts of law, but also the very judges who bravely ignored the screaming mob to reach their just verdict - that there was no evidence she committed blasphemy.
That the appeal process - which spanned years - was thorough and followed due process is not in question. If ever there was a time for the Pakistani government to 'man up' against the extremists running the country into the ground and making a mockery of its governing institutions and judiciary, now is that time.
This is no time for mollifying or appeasing the TLP and their hate-filled anti-minorities, anti-democratic, anti-everything agenda. This is no time for backtracking on a decision by the highest court of the land at the first sign of foot stomping and fist wringing by radical Muslims. This is the time for tough action that sends a clear signal to all extremists that they have no place in modern Pakistan.
One green shoot of hope was the recent announcement from the government that it would be pressing terrorism and sedition charges against TLP leaders following its nationwide protests against Bibi.
'Today we have decided to take legal action against the TLP leadership,' Pakistani Information Minister Fawad Chaudhry told a press conference.
'All those who were directly involved in destroying property, who misbehaved with women, who set fire to buses, are being charged under laws of terrorism at different police stations.'
The government has made similar statements in the past only for there to be very little real follow through. This time, the government needs to follow through and give those found guilty the maximum sentence of life in prison.
And that is only the first step. For freedom to have any meaning for Bibi, Chief Justice Saqib Nisar must finish this once and for all before leaving office, uphold the original verdict, free Bibi to go to a country of her choice, and help the government to leave this mess behind. It should never have fallen to him a second time to be the one who has to stand against all the rage of the extremists - that is the government's failing - but fallen to him it has and he must do what is right in maintaining Bibi's innocence. Because ultimately we all know that Bibi and her family will never be safe in Pakistan and Pakistan won't be able to protect them for a lifetime.
For now, it's another Christmas in incarceration for Bibi. I am led to believe that she is a fan of Christmas lights because she thinks Christmas is a festival of lights. There is also a sweet account I heard of Bibi one time being moved to tears when the woman who cleaned her cell every day handed her a small piece of Christmas cake wrapped in foil.
After so many lonely Christmases in solitary confinement, it is heartbreaking knowing that a dark shadow hangs over what should have been her first Merry Christmas with her family after being freed. Instead, I doubt she has any Christmas lights or decorations where she is being held under tight security.
Christians around the world celebrating Christmas must remember those unable to celebrate the season like them and not neglect to pray for a just outcome for Bibi and others like her suffering for their faith. Pray for the day when Bibi, just like them, can put up lights around her home, go to church, eat Christmas cake with her family, and enjoy all the other festive delights most of us take for granted.