Taliban could not intimidate her, but evidently she is not inhibited in the presence of the President of the United States either. Teenage Pakistani activist Malala Yousufzai says she told US President Barack Obama during a visit to the White House on Friday that refocusing efforts on education in Pakistan would make a better impact than drone strikes that kill innocent victims and fuel terrorism.
The White House, which released a photograph of Malala's meeting with the President that also showed First Lady Michelle Obama and their daughter Malia sitting in, did not confirm the account, only noting that the First Couple welcomed her to the Oval Office "to thank her for her inspiring and passionate work on behalf of girls education in Pakistan." "The United States joins with the Pakistani people and so many around the world to celebrate Malala's courage and her determination to promote the right of all girls to attend school and realize their dreams. As the First Lady has said, investing in girls' education is the very best thing we can do, not just for our daughters and granddaughters, but for their families, their communities, and their countries," the White House said. But in a statement issued through Associated Press, Malala claimed to have also "expressed my concerns that drone attacks are fueling terrorism. Innocent victims are killed in these acts, and they lead to resentment among the Pakistani people. If we refocus efforts on education it will make a big impact." The White House did not confirm the exchange. The White House meeting, part of Malala's US tour that has included speaking at Harvard University, the World Bank, and numerous TV appearances, came on what is now celebrated as the International Day of the Girl. "As the President said in his proclamation to mark the International Day of the Girl, across the globe there are girls who will one day lead nations, if only we afford them the chance to choose their own destinies. And on every continent, there are girls who will go on to change the world in ways we can only imagine, if only we allow them the freedom to dream," the White House statement reminded, saluting Malala's efforts "to help make these dreams come true."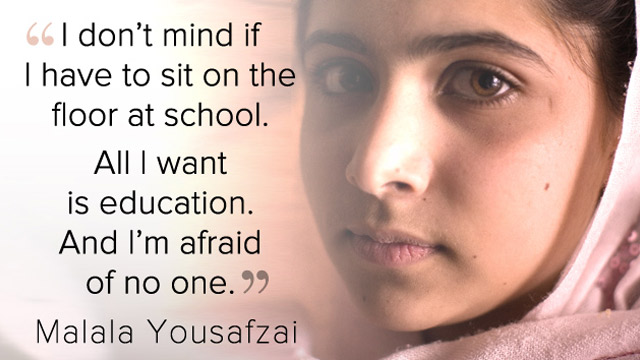 Indeed, in several public appearances in Boston, New York, and Washington, the young Pakistani activist has wowed audiences with her passionate promotion of education for girls. Asked on Jon Stewart's Daily Show what she wanted to tell the Taliban, which shot her in the head for espousing education for girls, Malala said, "You can shoot me, but listen to me first. I want education for your sons and daughters. Now I have spoken, so do whatever you want." The response caused Daily Show's Jon Stewart to go mock slack-jawed. "I know your father is backstage and he's really proud of you. But would he be mad if I adopted you?" Stewart joked. To Christian Amapour on CNN, she said of Taliban: "They only shot a body but they cannot shoot my dreams." Similar responses to an audience packed into the World Bank atrium on the sidelines of the Bank-Fund annual meeting brought her several rounds of applause. "If a terrorist can change someone's mind and convince them to become a suicide bomber, we can also change their minds and tell them education is the only way to bring humanity and peace," she said, after insisting, "I am proud to be a girl, and I know that girls can change the world." She said people did not have to do anything extra for their daughters, "but don't clip their wings...let them fly... and give them the same rights as your sons....give them a chance to be a human being." When World Bank president Jim Yong Kim, a physician by profession, asked her why she wanted to enter public life, Malala replied, "Because a doctor can only help someone who has been shot. If I become a politician, I can help make a tomorrow where there are no more cases of people being shot." Later in the evening, Malala spoke at Sidwell Friends School - where Obama's daughters Malia and Sasha study; also alma mater to Chelsea Clinton and daughters of President Nixon - at a sold-out event hosted by Politics and Prose bookstore. Many of her engagements are aimed at promoting her book "I Am Malala: The Girl Who Stood Up for Education and Was Shot by the Taliban. The Washington event came hours after she had been nixed for the Nobel peace prize after her PR machinery had built unrealistic expectations that she was favored to get it. Malala herself provided the most sober perspective of the hype, saying it would a "great honor and more than I deserve" to win the accolade, but insisting she still had more to do before she felt she'd truly earned it. "I need to work a lot," she said.