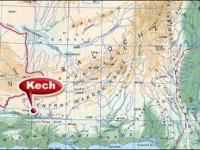 Pakistani security forces have abducted at least fifteen people from Balochistan's Awaran and Kech districts in the past two days.
According to details, Pakistan FC and intelligence agencies conducted offensives in Balgtar Fairozi area in district Kech and abducted at least eight persons on Monday.
The abducted men have been named as Niaz son of Bahar, Rajab son Mehrab, Zaman son of Mohammad, Nazar son of Ghafoor, Fairoz son of Omitan, Waheed son of Essa, Noor Khan son of Afzal and Wahab son of Aziz.
Whereas as in similar offensive Pakistani forces abducted Barkat son of Qadir Bakhsh, Ali Bakhsh son of Sahib Dad and Qadir Bakhsh from Peerandar region of district Awaran.
Pakistani forces also abducted Karim Jan son of Allah Dad, Pahlan son of Allah Dad, Asadullah son of Miya Pasand and Karim son of Khuda Bakhsh from Jhao area in district Awaran.
It is pertinent to mention that despite the release of more than two dozen people Pakistani forces have abducted hundreds of more people from different areas of Balochistan.
http://balochwarna.com/2019/02/13/balochistan-15-persons-abducted-from-district-awaran-and-kech/