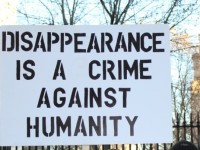 Pakistani forces have abducted several people from different areas of Balochistan including two brothers and their father. The enforced-disappearances dramatically accelerated despite govt's claims to release previously abducted persons from Balochistan.
Pakistani forces have raided a house in Mondi area of Gwadar Balochistan Sunday and abducted at least one person.
The victim has been identified as Peer Jan son of Mohammad Ameen resident of Dasht area of Balochistan.
In another incident, Pakistan security agencies and FC raided several houses in Mand Maheer area of Kech district Balochistan and abducted at least five people.
The abducted men have been named Dad Mohammad, Fida son of Ababagr, Poza son Azam, Hothi son of Noor, and Abdul Wahid son of Adam. The aforementioned are residents of Maheer region of Mand Balochistan.
Meanwhile, a dead body has been discovered from Qambrani Road area of Quetta on Sunday.
The corpse was later identified as that of Mohammad Jan son of Peer Bakhsh. motives of his killing could not be ascertained immediately.
on Saturday, December 1, Pakistani security agencies offloaded a Baloch student from a passenger van at Balgatar check post while he was on way from Quetta to his hometown Gowarkop in district Kech, Balochistan Saturday.
The abducted student has been named as Dolat Baloch S/O Wahid Bakhsh.
Earlier on Friday (30 November) Pakistan forces attacked a funeral several and abducted at least seven men in district Panjgur Balochistan.
The victims have been named as, Abdul Gaffar son of Mohammed Yaqub, Sarvar son of Sanjar, Ali Akber son of Dad Bakhash, Lal Jan son of Ghulam Mohammed, Shah Dost son of Murad and Muslim son of Mannan.
The men were attending the funeral of two people who were earlier killed in a gun battle between Baloch fighters and Pakistani army backed death squad terrorists.
Also, on Friday, November 30, Pakistani forces raided a house in Tajaban area of district Kech Balochistan and abducted Shakir son of Miskan Baloch. He is a resident of Sang Abad Tajaban.
On Thursday night (29 November) Pakistani forces raided a house in Quetta and abducted two brothers along with their father.
The victims included Jiyand Baloch, the senior joint secretary of BSO and a student of Bahauddin Zakria University in Multan's sociology department. Other two have been named Jihand's younger brother Hasnain Baloch and their father Qayyum Baloch.
In a separate raid, Pakistani forces disappeared Ameen Baloch from his hostel room in Killi Ibrahimzai Quetta Friday. Ameen is a medical student originally from Balochistan's Awaran district.
On 26 November Pakistani forces raid a house in Nizarabad area of in Tump in district Kech Balochistan and abducted a Balochi language singer.
The victim was later named as Balochi folk singer, Khursheed Ahmed.
Yet another similar offensive Pakistan FC raided the house of Abdul Majeed Baloch in Tump area of Baloch and abducted Zaheer Ahmad son of Abdul Majeed.
Sources informed BalochWarna News that Zaheer Ahmad is a tailor master by profession.
Meanwhile, hundreds of families including women and children continue their token hunger strike outside Quetta Press Club despite the cold weather. The families have been demanding for the safe recovery of their loved ones.
They have been demanding that if their loved one have committed any crimes and there are any charges against them they should be presented to a court of law otherwise they should be released.
Baloch human rights activists and pro-freedom political parties say that Pakistan security forces have abducted more than 20,0000 people since the beginning of the currently ongoing phase of Baloch struggle in the early 2000s.
http://balochwarna.com/2018/12/02/balochistan-enforced-disappearances-see-no-end-as-families-continue-their-strike-in-quetta/