The Pakistan Super League team Peshawar Zalmi on Friday nominated the Nobel Laureate Malala Yousuf Zai as team's face and ambassador ahead of the next season of the league.
Team's owner Javed Afridi, after meeting Malala Yousufzai and her family in the UK, said that Malala will be the face of Peshawar Zalmi in the upcoming season and will also be cheering for the team during the tournament in Dubai.
"It is an honour for us to be associated with Malala Yousafzai who has made Pakistan proud by winning the Nobel Prize. PZ Foundation will also support Malala's cause for girls' education in Pakistan and in other countries," said Javed Afridi after meeting Malala and her family.
Afridi also presented Peshawar Zalmi's official jacket to the 19-year-old Malala, the youngest ever Nobel Prize Laureate, and the only second Pakistani to win the prestigious award.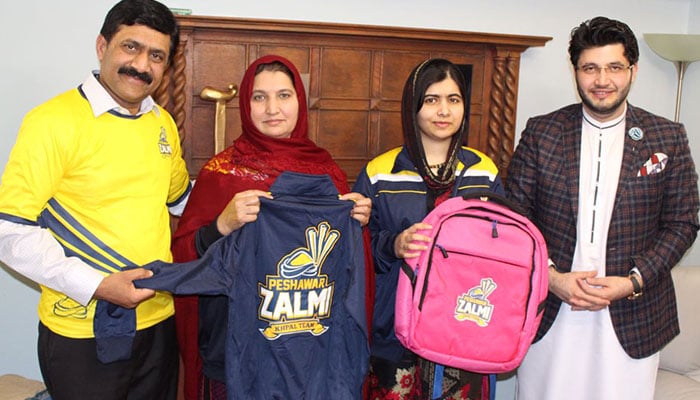 "Malala has always been a great supporter of Peshawar Zalmi, and this year she will be the face of our team, an ambassador of our team," Afridi said.
Malala has also recorded a video in support of Peshawar Zalmi, saying that she's one of the big Peshawar Zalmi fans.
"To all the Peshawar Zalmi fans, I am also one of you," she said in the video message received by Geo.tv.
"We are all supporting this team because we are proud of our Pashtun culture, Pashtun tradition and Pashtun nationality. We stand for peace and unity in the region. Please come forward and support the team," she said.
The second edition of Pakistan Super League will be played from February 9th to March 7th.