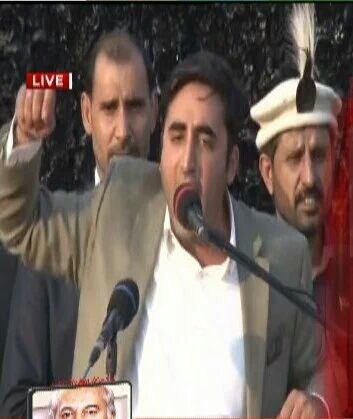 Chairman Pakistan Peoples Party Bilawal Bhutto Zardari has said that he would announce Long March On December 27, if his Party's four demands were not accepted before it. Amid the slogans of "Go Nawaz Go" from the massive number of charged workers from Central Punjab who converged at Bilawal House, Lahore today in connection with Party's 49th Foundation Day celebrations today, Bilawal Bhutto Zardari said he would form a Committee for implementation of his four demands and warned Nawaz Sharif that " Go Nawaz Go" slogans have started from Takh-e-Raiwind not from a narrow alley or a small town of Sindh or Balochistan.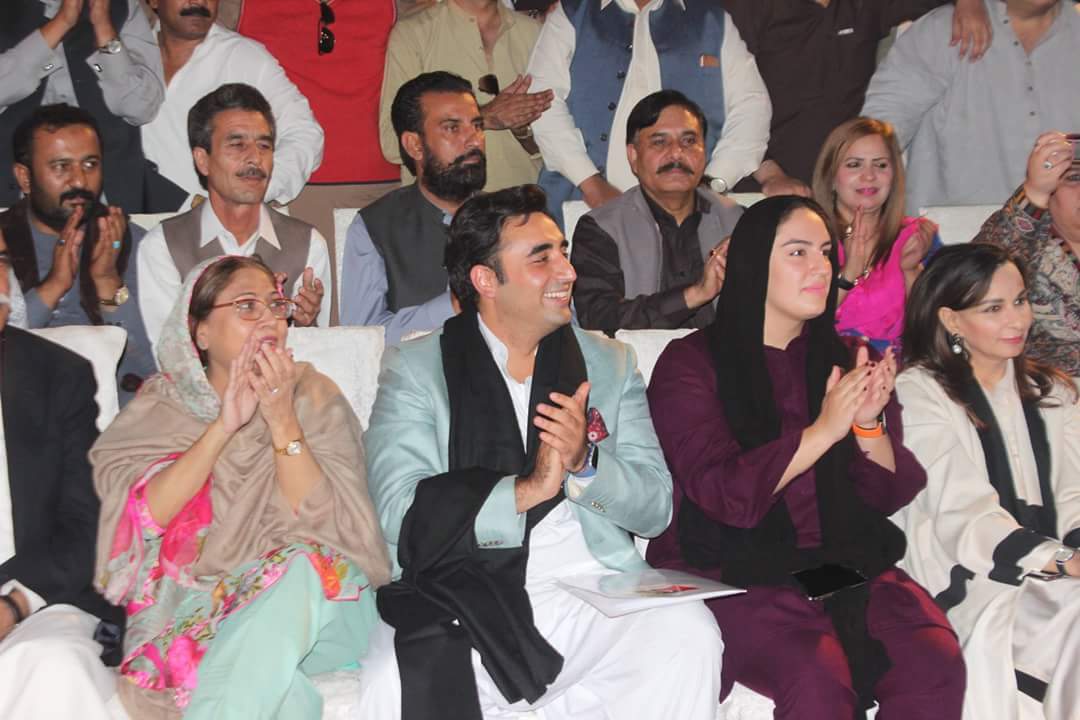 PPP Chairman said that he is not here to participate in politics but for a democratic occupation of Punjab, where remnants of dictator Zia are still ruling since many decades. He pointed out that Shaheed Zulfiqar Ali Bhutto gave democracy to the country and Shaheed Mohtarma Benazir Bhutto restored the democracy after it was overthrown by dictator Zia. " It is the time to tell Sharifs that their time is over and this is their last show. Either Jail, Saudi Arabia or elsewhere is going to be the next destiny for their crimes," he added.
Bilawal Bhutto Zardari said that every child is born with Rs.120,000 debt as Sharif brothers have doubled the international and domestic debt of the country in just three years. "Agriculture sector has been ruined. Industries and factories shut down. Exports steeply declined and workers unemployment rising. Instead of reducing load-shedding, Nawaz Government has doubled electricity tariff. Social services like health and education are in dilapidated condition, "he added. PPP Chairman said that Sharif brothers indulged in massive scandals behind the facades of Sasti Roti, Danish Schools and Ashiyana schemes. "Now , Prime Minister Nawaz Sharif has been found involved in world's biggest Panama scandal but they are trying to hide themselves from a letter from Qatari Prince." He added. Bilawal Bhutto Zardari said that Nawaz Government was carrying out atrocities against women and minorities in Punjab and they have been made 10th class citizen not 2nd class citizen.
PPP Chairman said that his Party's Foreign Policy will be based on Strength Through Peace.
Earlier, addressing the Jiyalas at Bilawal House, Senator Aitezaz Ahsan eulogized Shaheed Zulfiqar Ali Bhutto, Shaheed Mohtarma Benazir Bhutto and thousands of PPP workers who offered sacrifices for the democracy and rights of the people. He pointed out that Sharif brothers were taking benefits from a lacuna of PPRA laws and have awarded huge contracts to foreign companies against hefty commissions. He pointed out that our Metro cost eight times more than construction of similar Metro services in Indian cities of Amritsar and Ahmedabad.
Aitzaz Ahsan further pointed out that Sharif brothers are ruling since 30 years and they have developed nexus kind of personal relations with world's richest families and they use their influence whenever are caught to wriggle out from punishments and convictions.
PPP Senator endorsed the views of former Prime Minister Yousuf Raza Gillani that there were two laws in Pakistan. "When Nawaz Sharif government was dismissed in 1993, the Supreme Court ruled that government cannot be dismissed on corruption charges. However, the same apex court gave opposite ruling in 1997 when PPP government was dismissed on false corruption charges," stated the renowned lawyer of the country. He said that Prime Minister Nawaz Sharif has no guts even to name Kulbhushan Yadav, a serving colonel of Indian Navy caught on Pakistani soil for spying and announced Rs.50,000 donation for Blind Association if Nawaz Sharif mentioned him in any speech. Had our Colonel been arrested without a passport and visa from Agra, Modi may have put him in a cage behind his podium of his speech on August 15," Aitzaz Ahsan said. Former Prime Minister Raja Pervez Ashraf, leader of the Opposition Syed Khursheed Shah, PPP Central Punjab President Qamar Zaman Kaira, General Secretary Nadeem Afzal Chan, and Information Secretary Mustafa Nawaz Khokhar also addressed the Party workers.
Prominent folk singers from Punjab Arif Lohar, Saeen Zahoor and others performed traditional music on the occasion.